POST AND BEAM and PIECE-EN-PIECE LOG CONSTRUCTION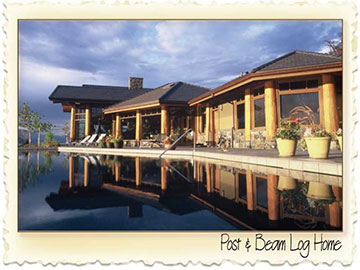 There are really no limits to the design possibilities of post and beam construction which allows for design versatility in both in layout as well as to a variety of wood surface treatments.So the question is probably What suits you best? Rustic? Contemporary? Modern? Traditional? Piece-en-piece? Dimensional? Natural?
We began specializing in Post and Beam in 1997 and have delivered both small and ambitious projects to a wide spectrum of destinations including North Carolina, Japan and Denmark.
Post and Beam construction also is adaptable to a wide range of budgets, can feature very simple or complex joinery, and adapts well as a hybrid when incorporating several rounds of scribe-fit or chinked dovetail logwork at the base of the structure.
Post and beam uses fewer logs than dovetail or scribed and is a lovely way of illustrating the form and function of the structure. Typically the logs are flattened on the inside faces of the wall to accept stress-skin infill panels or conventional 2x6 framing, while the interior and exterior of the logs retain their organic shape. Infill panels can be finished with stucco, tongue and groove or board and batten. Interior walls are typically finished with drywall or plaster.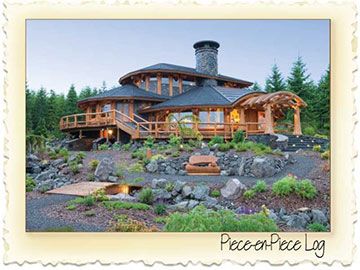 A Piece-en-Piece Log Structure is essentially a load bearing post and beam frame using horizontal log in-fill panels for the walls.The tradition of piece-en-piece was a logical choice in areas where long logs were less available. The short-log in-fill panels also made construction easier in the absence of the lifting systems we enjoy today.
Today, however, piece-en-piece is one of the more expensive options as it is labour intensive; as each log - short of long requires cutting and fittiong. At Nicola LogWorks we pre-build and assemble each set of panels at our site using either scribed or chinked system style depending on the aesthetic preference of the customer. On re-set the tenoned panels are slid into pre-cut slots in the posts.
Logs used for post and beam and piece-en-piece log homes are approximately 18" -24" in diameter. Our species of choice are Western red cedar and Douglas fir and when available Alaska yellow cedar.

To see more images of post and beam or piece-en-piece homes: "Post and Beam Gallery"
Or view our video "Post and Beam Log Homes - An Overview":


---