Getting Started: house plans
Developing your log or timber home plans should involve several considerations from the get-go:
budget, size and quality
and a well developed intent for the use of the building:
primary residence or recreational residence, siting of the building on your land, and how you want to live in the home.
Not all of us can "have it all", and home design is a series of compromise that should begin with an honest assessment of what you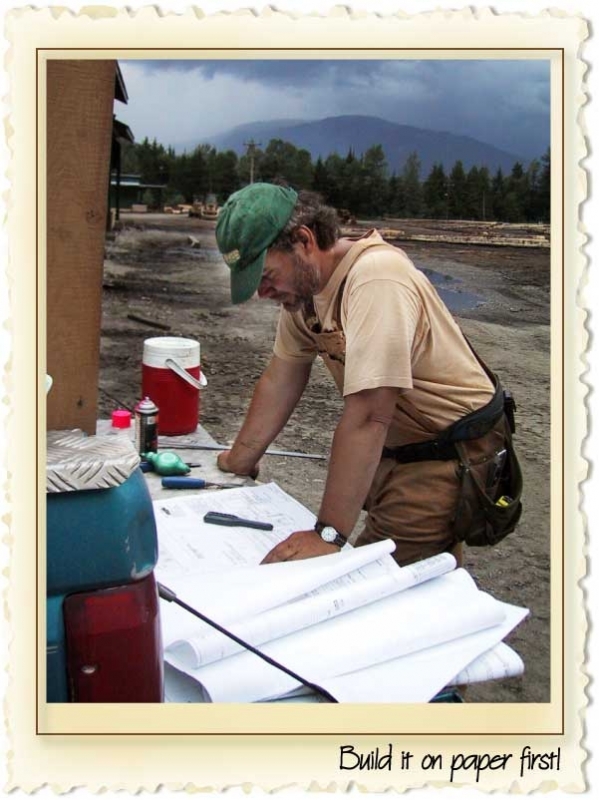 have to work with - starting with budget. (If size is your priority - but your budget is modest - you may have to compromise quality. If quality is your primary concern and you are working with a modest budget - you will likely have to size down - and so on.)
Some customers may have both the time and the skills and desire to do some of the work on their home themselves
- and that can stretch the budget, but most customers will have to rely on their contractor and log builder to give them realistic quotes and to perform the work according to the specifications.
John says that we do a really good job of scaring people away when they initiate contact with us as their possible log home builder, and to an extent this is true - but we are committed to ensuring that our customers can realize their dreams.
One of the first questions we will ask you is the budget that you are working with - a question that can be disconcerting to some
customers who naturally are hoping to get as much value as they can for as little outlay as possible.
Our interest in the total project budget helps us dertermine how much of it can be allocated to the log or timber portion of the project which typically comprises XXX % of the total project costs. If the log or timber portion of the building consumes too much of the overall budget - it will leave the other components of the building process short.
We have been in the business of building heavy timber and log homes for over 25 years - and enjoy helping our customers realize their dreams.
The more we can help you be prepared for the exhilerating and exciting process of building your dream home, the less likely it will be that the excitement will be of the stress-ful kind.
In no particular order of importance - Here are some tips we hope you will find helpful as you go through process of evolving your plans:
Stock plans may serve for inspiration and they are not expensive, however any good log builder (and contractor) will insist that plans are drawn specific to the home that you will build.
Consider the use of the building and who will be using it and "how" you want to use it. For example - does it make sense to have that extra large kitchen/entertaining area if you only have one big party a year? Does that extra guest bedroom take away from your day to day living space? How often will it be used?
What will the "flow" of the house be like? Transitions from public to private areas etc...
Going through the excersise of a design and planning procedure is very helpful - not only for you, but for you builders and designer or architect as well. If you would like to recieve a copy of our
Design and Planning Questionnaire please click here!