Working with Nicola LogWorks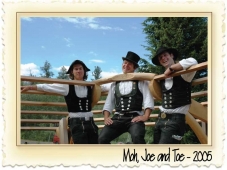 We are always on the lookout for like-minded colleagues and employees who might be a fit with our team. Skills and talents in heavy timber are highly prized here at Nicola LogWorks, but more importantly we hire for attitude.
We like and respect the people who work with us - and that is important - given the amount of time most of us spend at work.
John works hard to keep work in the yard on a year round basis - and if you are already in the field of construction you know that can be a challenge! If you are looking for an entry level position with us, bring your good attitude and be prepared to put your back into it!
Typically new employees start on the peeling deck or with repetative tasks such as sanding and grinding, yard cleanup etc...If you show an aptitude or interest for learning log and timber skills you can expect to grow your abilities while you work with us.

Current Job Openings at Nicola LogWorks


Help Wanted: posted April 2nd 2017
Nicola LogWorks builds handcrafted log homes (Dovetail, Scribed, Post and Beam) and Timber Frame. We also put our heavy timber skills to work on commercial out of town installations of CLT (Cross Laminated Timber) and Gluelam.
Essential skills: Journey man carpenter with four year certificate in the European Tradition or equivalent. Massive wood joinery. Crane Experience with ticket(s)
Must be physically capable of heavy work and willing to travel out of town from time to time.
Job includes layout, cutting and assembling of massive wood. Reading and interpreting blue-prints.
Our ideal candidate will also bring Dietrich's CADD experience,
Secondary skills: surveying and log building experience.

Nicola Logworks is looking to hire a Dietrich's draftsman with a carpentry back ground. Posted April 2nd 2017

Job requirements:
Sound knowledge of Dietrich's timber modelling software.
Journeyman carpenter or similar experience.
Job assets but not required:
Log building experience
Timber framing experience
German or French language skills
We are a small log and timber company doing a challenging variety of mass timber buildings.
Located in the Nicola Valley in Southern BC. We would like to fill this full-time position by Mid February of 2016. (Please do not reply to this ad if you do not have Dietrich's CAD knowledge and hands-on carpentry background.)
Part Time:
We are looking for someone with excellent tool repair and maintenance experience - small power tools particularly, larger equipment maintenance such as loader and forklift skills would be an asset. Yard and shop maintenance - electrical knowledge a very big asset.The position would be for a couple of days a week with occasional unscheduled "call-ins". In the past, this position has suited retired individuals who are still interested in keeping their hand in (between golf!).
Go to contact page to respond to this ad or to speak to us further.